HOME PAGE LINKS
Use this Search Engine to help you find specific items of interest on this site.
The site is absolutely independent and we have not sought, nor will we, any endorsement or funding from any organisation. In that way we can maintain our integrity and freedom. Although we seek no fees or payment for what is provided on the site, we do have ongoing costs and if you wish, you can DONATE towards these costs, using credit cards or PayPal.

There are two parts to the site:

First and foremost we aim to provide basic information - and links to more detailed sites - for people who have recently had the news of a prostate cancer diagnosis. The links to the relevant pages are shown below. If you hit the "Don't Panic" button an arrival, and followed instructions, you will have been to these pages already.

A prostate cancer diagnosis is a fearful thing. Fear is a dreadful emotion. It stops us thinking logically. It makes us rush into doing things. If that is how you're feeling, use this DON'T PANIC Link.
In spite of what you may have read, very few men die from Prostate Cancer - see some facts are on this GOOD NEWS! Link
If you are wondering what your diagnosis means, some of the common terms needed to gain an important understanding of your DIAGNOSIS are on this Link
There are things you can do after diagnosis which will help you on your journey - see the SURVIVING Link
Choosing the most suitable treatment can be confusing - and some of the many options may not be mentioned by your doctor. See all available options at the TREATMENT CHOICES Link
There are many sources of information on the internet and some of the ones that might help you are found via the RESOURCES Link

SITE SEARCH ENGINE and DISCUSSION FORUM

Use the SEARCH ENGINE to look for any additional information or if you have any specific questions ask them by joining the DISCUSSION FORUM. There are only three rules on the Forum : no commercials or fundraisers, no harvesting for Spam and no flaming - politeness is required at all times. Although there are no qualified medical people on the Forum, the combined experience of the members can usually answer most questions.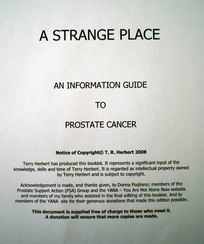 In addition to those pages, you can read A Strange Place. This is a simple Information Guide to Prostate Cancer written by Terry Herbert, long time prostate cancer survivor and owner of this site. It was developed primarily as a booklet for men with no access to the Internet, and is a useful source of basic information. You can read the booklet at A Strange Place If you want to print a copy of the booklet, there is a version in pdf format, which will make printing easier. It is a large file (906 KB) and may take a minute or two to download, depending on your line speed. The booklet is 36 pages in all, so if you don't want to print it out, a hard copy is available, free of charge. Click on the cover [left] or e-mail us giving details of your postal address.
YOU ARE NOT ALONE - SURVIVORS STORIES
The secondary focus is to show that you are not alone. Thousands of people have been down the road ahead of you and more than a thousand of them have told their stories. Most of these men have left their e-mail addresses and will respond to any questions you might have. Most have also kept their stories update for many years. SURVIVOR STORIES is the link to the Survivors Stories - entries where men and their partners give details of their diagnosis and treatment. These stories are indexed and can be searched by a number of criteria including:

Treatment chosen Age at diagnosis Initial PSA Gleason Score on biopsy
Year of diagnosis Country or State of residence Date of Last Update

There are relatively few places where women can seek the company of other women or where their specific issues are discussed or linked to appropriate sites. Hopefully this Link FOR THE WOMENFOLK will help.

Although a diagnosis of prostate cancer is serious, life without laughter is not much fun - and laughter is of value in the battle for continued good health.There is some evidence that laughter can help maintain health - and in any event, life continues after prostate cancer, and life would not be much fun without laughter. TROOP C has some amusing, and thought provoking contributions from men with prostate cancer and contains some wry looks at our disease.
If you find any links that do not work as you go through the site, it would help us enormously if you could report these to

us

.
The site is absolutely independent and we have not sought, nor will we seek, any endorsement or funding from any organization. In that way we can maintain our integrity and freedom. Although we seek no fees or payment for what is provided on the site, we do have on-going costs for the web-hosting services, and printing and postage of materials to our subscribers.

If you have found this site useful and wish to contribute to these costs, donations of any amount may be made quite safely and securely by clicking on the "Donate" button below. We are not a registered charity, so in most tax regimes any payment made will not be tax-deductible.

If you do not have your own PayPal account, you can donate by using any major credit card (such as MasterCard, Visa, Discover or American Express) by clicking on the Donate button below. You will see the option to use a credit card instead of PayPal in the bottom left of the next screen. This does not create a PayPal account in your name - it is simply a way of transferring the funds to the YANA PayPal account. It is not necessary to have your own PayPal account, and your personal credit card account information is never exposed to anyone.

Select your local currency type from the drop-down list below.

Click on the "Donate" button -- that will transfer you to PayPal.

Enter the amount of the donation you wish to make.

You can then either login to your PayPal account (if you have one) or you can use any major credit card to make the donation payment by clicking on the "Continue" link in the section entitled "Don't have a PayPal account?"

Please e-mail us at yananow@yananow.org if you do make such a donation so that we can acknowledge receipt of it with our very sincere gratitude.
This site is for all the men, their partners, sons and daughters, and all those who care. If you want to know how this site came about and who set it up, go along to the

ABOUT US

Link.